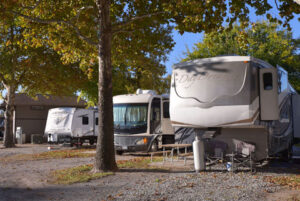 If you are part of a family with young children, vacations can be difficult to pull off. In addition to the cost of traveling and having to take time off for work, young children can be unpredictable when travelling. Even when they're slightly older, they might want to have an entirely different vacation from you.
So, if you're looking for a fun and affordable vacation for the whole family, consider staying at an RV Park. Here are some of the benefits:
Spend Time Outdoors
When you go to an RV park, you won't have to worry about spending so much time in a cramped hotel room. You'll have the opportunity to go for walks and enjoy the outdoors. You can even build a campfire to enjoy with other guests and spend the night making smores and having a good time. Plus, when the kids go to bed for the night, you can sit outside and enjoy some food and drinks with other adults.
Comfort and Convenience
Going to an RV Park is just a little bit more convenient than other forms of traveling. You don't have to pack light as you have an entire RV's worth of storage space. And you don't have to worry about getting used to sleeping in an unfamiliar space – you'll essentially be in an extension of your home. Plus, you can cook your own food, so you know that you'll like what you're eating.
Save Money
There's no doubt about it: staying in an RV park is a cost-effective way of travelling. The cost will, of course, always depend on where exactly you are. But in most places, you'll be able to stay in an RV park for four nights for the same price as one night in a hotel. And saving money may mean you'll be able to extend your trip, travel more often, or spend money elsewhere during the course of your trip.
If you're planning an RV trip, consider staying a few days with us here at Council Road RV Park in Oklahoma City. Whether you're staying for a day, week, month, or longer, you'll find we have free Wi-Fi, cable TV, clean showers, laundry, and many other amenities. Call us at (405) 789-2103 to learn more about reservations.